At the age of 9, Joel's family trip to the lake ended with a traumatic car accident and a spinal cord injury. But it didn't stop him from dancing to his own rhythm.

Photo by Hugo Glendinning
Joel's dad was a talented gymnast, while his mother and all seven of his siblings were dancers. But dancing came with mixed emotions for Joel.
"To be honest I wasn't really into dancing when I was a kid. I liked basketball and other sports, but to quit dancing wasn't really an option. Until the accident. So that's my dark joke – I was relieved when I didn't need to go to dance class anymore," Joel says with a crooked smile.
The month before the car accident, Joel had just been accepted to Utah's Children's Dance Theater, but his spinal cord injury put an end to both dancing and the other sports he was interested in. At least for a while.
The years went by and, with the encouragement of his older brother Graham, Joel returned to dancing in high school. Graham was a dance student at the University of Maryland when he created their first project together, I've Had It Up To Here.
The project not only explored a new form of motion, dancing and interaction, but it also served as a form of therapy. Graham was driving the car that day when Joel was injured, and the partnership helped the duo to confront the accident and come to terms with their new normal. Graham wrote the text, Joel did the original musical compositions, and the brothers have continued to work on different projects together ever since.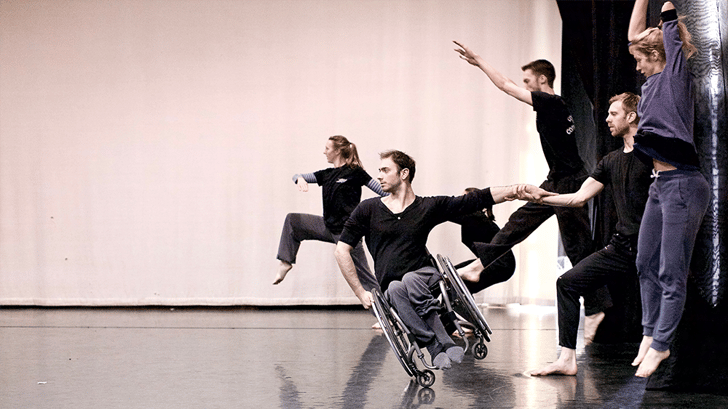 Candoco Dance Company, photo by Pedro Machado 2016
Today, Joel is an established professional dancer with the UK's Candoco Dance Company. Candoco produces contemporary dance for audiences and participants, and strives to challenge and broaden people's perceptions of art and ability. The Candoco Dance Company is also a partner of "Moving Beyond Inclusion", a two-year project that unites six inclusive dance companies from across Europe.
"It's great to meet dancers from all over Europe, with similar values and goals, building networks," Joel says.
There is ample room in the dance community to represent physical diversity, but the opportunities for disabled artists to present their work are still limited. This need is why Moving Beyond Inclusion came to life. It is a forum for creative and professional exchanges, choreographic research, symposia, performances and skills development for people working in dance.
"The disability could be a possibility," says Veera Suvalo Grimberg from the Dance Company "Spinn" and Moving Beyond Inclusion. "In dancing we express ourselves with our bodies, and dancing gets more interesting through our differences."
Visit the project website: Moving Beyond Inclusion.